Hi there peeps and it's another gorgeous day here in Chester today :)
In fact, it's so nice that I am off on me bike shorlty for a bit of fresh air and exercise  …. before I go and fill my piggy old chops at Frankie & Benny's later on!!!!
But before that, it's time to hop over and check out the Just Magnolia and hAnglar & sTanglar challenge and today it's my turn to host. It's also our special monthly challenge so our theme is
Anything Goes
with the option of adding some stitching somewhere – you can either draw it on or use real stitching.
We are sponsored today  by those lovely people across the water, Simon Says Stamp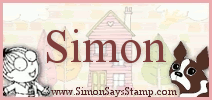 and there is a rather yummy voucher up for grabs so do check it all out if you get a sec.
So …
… here's what I did. I coloured Tilda Loves Flowers from Simon Says Stamp in these Copic colours ..
Skin – E000, E00, E11, E21, R00, R20
Hair – E25, E29, E35, E50, E51,
The rest – B0000, B000, B00, B12, BV000, BV00, BV02, BV04, E81, RV000, RV00, RV10, RV29
and I also added a bit of polychromos pencilling here and there.
The papers which I am, LOVING, are the new release from Nitwits and they are from the FQB - Bonnets 'n Bowties Collection – right up my street they are lol!!! And the pretty ribbon is 38mm faux silk ribbon from The Ribbon Girl - where else would I get my gorgeous ribbon from :)x
This is a Marianne Design Creatables die but I cannot remember which one (soz peeps ) and the packet seems to have gone walkies but I'll have a look and update if I find it. I topped it off with a little carnation made from paper flowers.
So that's  the old card done and I may very well be back over the weekend with something tomoz. We have our Saturday morning baking sesh and then her ladyship goes swimming and seeing that Dicky Mint is working all day, I have the whole day to myself – wooohooooo!!!
Emma is going for another scan later today and she is taking Kyla with her, who on the one had is vey excited to be going, but on the other was apparently a bit put out that I wasn't;t collecting her from school today. Mind you, I wasn't too chuffed when Richard told me last week that she sidled up to him and whispered 'Grandma's got a big bottom hasn't she'!! Well out of the mouths of babes and all that so I thought I'd better get the big butt back on the bike (that's quite good alliteration there lol!!) . But sadly we are all then going to F&B's for our din-dins so my hard work will no doubt be undone :(
Anyhoos, enjoy your Friday and huggiest of hugs to all xxx