… oh yes cos I'm late today on 2 counts!!!
But first, hello lovely peeps and hope that you are all OK and fully recovered if you were NEC-ing it at the weekend!!
Today over at the good old Papertake Weekly challenge, we have a bit of a sketch for you …
… and it's this bad boy here.
I have to say that it is not the easiest,  or maybe that's just me, which is kind of rich seeing as I drew i!!
And of course,  as it's the last challenge of the month, we are sponsored by those fabulous people across the pond.
Yes it's the one and only Simon Says Stamp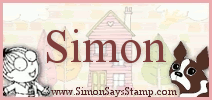 So…
.. this is what I did.
I just could to wait to ink up the new hAnglar stamp which came through my door on Friday. I was going to do her all in pink but then I decided to do something a bit different and colour her blue even though she is a girl (hope I haven't given her gender identity issues!!)
I used the following Copics -
E00, E21, R11 (skin), E41, E42, E50 (hair), B0000, B000, B00, C00, C1, C3, C5, RV0000, RV000, RV10 (clothes etc)
Fab Nitwits papers and Wild Orchid Crafts blooms and self adhesive pearls plus a bit Of Tilda Lace.
And I am loving the new Lili Of The Valley sentiments.
How brave was I to stamp directly onto the card AFTER it was all complete – verrry scary!
So that's the old card done.
Now the 2 reasons I am late today is that firstly, I packed away all my card stash cos we had visitors for dinner on Friday evening and Dicky boy did not want to look at it all weekend while I was away (that's fair enough I suppose cos I do get it everywhere!!) but I really didn't want to unpack it all again today – not very enthusiastic I know – and it seemed to take me aaaaaaaaaaages.
And secondly, I accidently left my camera on at the weekend so when I went to do the pic, there was about as much life left in it as there was in me when I was unpacking the stash!!!
And what a fab weekend I had at the NEC :) ….
….. apart from the train breaking down on the way and me Jacqui  and Bev panicking about whether we would all actually get home as we were told that there were rail strikes (flamin trains – grrr!!).
I cannot tell you how pleased I was to have finally met up with Lols – she is just as sweet and lovely as I knew she would be xxx.  Me, Lolsie and Heather had a lovely evening on Saturday drinking Sauvignon Blanc  and gabbing and filling our faces at the hotel where we were staying :) Hope I get to hitch up again with you 2 cos it was sooooooooo nice xxx
And of course my cyber twin was there as well and I love her to bits -  quite frankly we should not be allowed out together!!! But we had a nice lunch and a catch up on Sunday. Cannot wait to see you again Mrs K, love you loads  xxx
And of course on Saturday where do you think we went in between shopping and browsing?
Yes, Wetherspoons – just for a change!!!
I got to catch up with my lovely friend Marlene  and also Sarah Hot Shot, 2 of the most glam cardies you will ever see and both of them as lovely on the inside as they are on the outside (not fair is it!!!)
In an attempt to try and look a little bit glam (hahahaaaaaa!!) I had some false lashes put on  -  Richard said they made me look like a camel, the cheeky sod. They are only supposed to last 2-3 days but here we are 5 days later and they are still as good as new. The best £10 I ever spent cos I don't need to wear mascara. They did hurt a bit getting them put on and I said never again but I think it's a bit like childbirth, cos I have all but forgotten the stinging.
Mind you,the way I have my eyes screwed up on the pic, it look  like they were still hurting -  is really NOT attractive  Miss Piggy :(
So on that note I had better get off an get some more stuff done. Enjoy your day and see you tomoz for some Simon Stamp Stamp stuff – no sneakies today cos the camera is still charging and the card is still in bits.
Huggiest of hugs to all xxx