Hi there peeps and hope you haven't had the rain we've had today – but looking at the forecast you probably did :(
It didn't let up for hours and at one point the rain was actually bouncing.
Still it's nice to stay in the warm and dry and get down to some crafty stuff!!
Today's challenge over at Papertake Weekly  is sponsored by the fabulous ….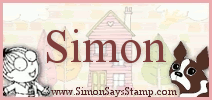 … and there is a voucher up for grabs to spend in the store.
As it's the last one of the month, we have a sketchie for you and …
…. this is the very chap here.
So I stuck fairly closely to it and this is what I did. 
Please excuse the pics (again lol!!) but the light is truly dreadful here today – grey isn't the word and it's got that yucky yellow tinge to it.  I used one of the new CC Designs images – this one is just called Snowman - and coloured him with these Copics -
B0000, B000, B00, B12, C00, C1, C3, E40, E41, E42, E43, YR04, YR07, YR16
I have to say that IRL it doesn't look as wishy washy as it does here!!!
OK, here's some pics ….
Ooops, guess who's trimmer needs a new blade lol!!! 
Attend to it at once Miss Piggy!!!
Righty-o then, this is the stuff I used today -
From Dies To Die For -
From Nitwits -
From The Ribbon Girl -
From Wild Orchid Crafts
So there's the old card done and I'll give you with a little sneakie peekie of tomorrows cardage ….
… yup same awful light but I may try again later on and see if I can improve it in any way, shape or form!!!
Have you been watching I'm A Celeb?
Ohh Fatima the other night with the old cockroaches was just awful (retch, puke bluh!!) . I thought I'd like her but I'm not sure I do now. And old Anthony / Sean from Corrie, well he is just a moaning  Minnie isn't he. I'm starting to like Mark Wright – not in the biblical sense though – and little Wille is very sweet (how much mileage have Ant & Dec got from that one!!). And Dougie is a poppet as well. Not fussed on Auzzie girl with plazzy bazoomers and didn't really like Pat Sharp either!!
I must just say that we've been a bit sparse with the old posts these last few weeks cos I have been unbelievably up the wall with one thing and another but hopefully we will resume, normal service soon.
Before I go I must tell you about my friend Lesley from Purple Butterfly Crafts cos she has set up a brand new challenge blog  fopr the shop and the first challenge is
It's Cold Outside.
You can see all the deets here but check out the fabby doodles prize that is up for grabs …
You'll have to be quick though cos it closes at midnight tonight so get your snowy cold cards over there asap.
In fact. I might enter this cards cos it's perfect for the challenge :)
Have a great day and see you tomorrow and huggiest of hugs to all xxx