Hi peeps and Happy Friday :)
The weekend is almost here, woohooo!!!
So it's time to head on over to the Just Magnolia & hAnglar & sTanglar challenge and as it's the first challenge of the month, our theme this week is an
open theme
with the optional extra of using ribbon.
We we are sponsored by the fabulous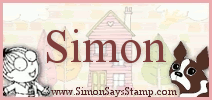 and here is this week's prize …
It's all good :)
Well  the mere whiff of ribbon and I was off,  cos I do love the stuff – you probably noticed lol!!
I almost went for a H&S image this week but in the end I decided to use this sweet Tilda. I coloured her with Copics in these shades -
Skin: E00, E21, R11, R20
Hair: E33, E42, E50
Clothes etc: E11, E31, E33, YR0000, YR00, YR20, YR61
The papers were actually left over from a mag commission I just finished and they are from a Helz Cuppleditch decoupage pack (Basil & Buttercup) which you can see here at Crafts U Love.
It's such a pretty apricot colour (until I get my photo editing hands on it that is lol!!)  that I couldn't resist using it.
The sentiment is from the Lili Of The Valley Inspirational Sentiments sheet .
And there's a bit more of Mr Holtz's scalloped die again lol!!
No prizes for guessing where these gorge blooms came from!!
Yes, Wild Orchid Crafts, as did the peachy self adhesive pearls
Time permitting, I am desperately trying to put together a little tutorial on ways to arrange your flowers btw as I have had lots of lovely e-mails and comments asking about them, so thank you for your  lovely words xxx
So that's my card today peeps and hope you like :)
Have the best day and if I'm not back before have a great weekend and hugs to all xxx