Morning peeps and hope everyone is ok xxx
Today over at Papertake Weekly we have a sketch challenge as it's the last one of the month –  where did February go????? I cannot believe we are in March soon!!!
We are sponsored by the very wonderful Simon Says Stamp so as always we have a fab prize up for grabs :)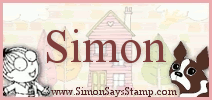 And this month's sketch is …..
… this bad boy here!!
So I thought I would do something a little different today – even though I seem to have gone back to the bright vibrant red and black colour combi again
Firstly, there is not a Copic in sight.  Well there is but more of that in a sec!!
I used one of the Lili Of The Valley Cute Squares  - I used Party Girls - and decided to have a go at that there pyramage thingy. These squares make it ohhhh so easy and I quite like the fact that it is a bit different.
Some things don't change though cos I sprinkled the old Glamour Dust over her skirt.
So here's where the Copics went.
I didn't have any black pearlies left so I coloured some white Wild Orchid Crafts ones with a black Copic pen!! You cannot see from this pic but they don't half shine.
The papers are a mixture of Pink Petticoat,  a Jak Heath freebie (thank you Jak xxx) and a pink piggy special ie I punched some red circles out and stuck them willy nilly onto some black card.
And there's another thing different as well …
Did you notice that there isn't a single bloom in sight!!!
I tried to see if I could make just one card without adding any (sad aren't I!!)
There has to be ribbon though – that is a step too far!!!
So there you have it for today lovelies.
I will be back tomorrow with a bit of news but I'll leave you with a sneakie peekie until then …..
…. oooerrrr, they aren't my usual colours lol!!!
All will be revealed tomoz so until then have the fabbiest of days and hugs to all xxx