Hi peeps and after a week where I was MIA, I'm back to almost normal (hahhaaaa!!!).
Between hackers, kids, work etc etc, last week was a bit of a haze. Once again I can only apologise if any of you were bombarded with spam sent from my hotmail account by a very unwelcome guest, and how dare these idiots do this!! I have hopefully put a stop to it now and even though I know it wasn't my fault and just one of those things, I feel so bad that a lot of  my friends were pestered  in this way.
So time to nip over and see what has been happening with the Papertake Weekly gang. We have a brand new team member and a fab prize as we are sponsored by the lovely Heidi over at Simon Says Stamp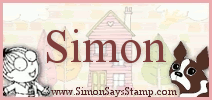 Our regulars will know that as this is the last challenge of the month, it's sketchie time and this week …
… it's this bad boy here.
And this is what I did with it.
Once again I actually stuck to it but of course you don't have to, as long as you can still see it there in your work.
I was rummaging about for something Tilda-ish to use and I found this stamp but for the life of my I cannot remember what she is called and she wasn't in her original packet as I'd put her in a little poly bag, poor soul!! So if anybody knows her name could you tell me please (thank you xxx)
I did the Copics thing, natch, and I used these colours -
E000, E00, E11, E21, R11, R20 (skin), E41, E42, E50 (hair), E37, E43, E42, E50, RV0000, RV000, RV00, R85 (the rest)
and the papers are from Nitwits – the  Bumbleberry Cottage and Merry Christmouse collections
This delish pink gingham ribbon is 25mm Berisfords pink no 57 small check – one of my faves ever, and I added a little pale pink small polka dot button as well. And of course these are both from our Mary & Andrea at The Ribbon Girl 
The cute sentiment is from Pink Petticoat and is from the Tiny Tags download but I think it's now been discontinued.
A little arrangement of Wild Orchid Crafts bloomage here with some  leaves made with a MS Martha Stewart Frond Leaf punch which I got from Simon Says Stamp
So that's the card for today peeps.
I am slowly getting back to normal after my hectic weekend away in Oxford at the Copicific Retreat. We had the most fabulous  time, and we all enjoyed 2 whole days of wall to wall crafting (with eating and chatting in between of course lol!!) and no housework or cooking etc. And after my mad week last week, it was just what I needed and  I have to say that they were one of the nicest groups of ladies ever and it was an absolute  pleasure doing the classes with them :)
And here we all are :)
Check out Miss Portly Piggy at the front looking every inch the bloater and trying desperately to hold in the stomach and not doing a great job of it lol!!! From L-R the ladies on the back row are June, Beryl, Jenny, Wendy, Jo and Denyse and from L-R at the front are Diane, Moi, Joy Hazel and Yvonne.
I cannot wait for the next one :)
I got home at 8.45 pm on Sunday night and my Emma bless her had fed Richard and there was a yummy roast dinner waiting for me.  Dope here missed the turning for the toll on the M6  and ended up with all the wagons etc on the really busy part of it– it was horrendous.  
So I was very good and unpacked it all and put everything away and ready to start again. I then spent best part of yesterday train to sort out the mess that was my hotmail account. Thankfully it had been blocked as they were aware I had been hacked. A 'nice' man from Microsoft was going to sort it out for me ….. for £74 + vat. But I asked one of our IT guys and he did it for me for  free!!!! So I am up and running again and I will get around to reply to all the emails asap.
Right I better go and do some more bits and bobs. Have the fabbiest of days and see you tomoz.
Huggiest of hugs to all xxxx