Morning peeps and hope you are all OK :)
It'd that time of the week when we hop over to Papertake Weekly and check out what's what!!
It's our last challenge of the month so it's time for a sketch and ….
… this is the bad boy here!!
We are sponsored by wonderful Heidi and crew over at Simon Says Stamp.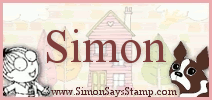 And there is a shopping voucher up for grabs for one lucky girlie so if you get a sec, nip over and have a nosey :)
So this is what I did – pink, just for a change lol !!
Not!!!
But for a real and proper change,  I'll do the shopping list stuff at the end today.
Some of them there rolled roses – but instead of cutting them straight, I cut them a bit wavy.
I really do like these!!
The light was bit funny when I took these so they aren't as fab s they could be, sorry peeps :(
Stuff used here is -
Copics in these colours -
E00, E000, E21 (skin), E40, E50 (hair), B0000, B000, B00, RV0000, RV000 (clothes etc) and a good dollop of polychromos pencils as well as some Glamour Dust
Image – Little Ones Duo Kit from hAnglar & stAnglar
Papers - Bumbleberry Cottage by Nitwits
PATP – Martha Stewart Flower Box from Dies To Die For
Gems - Wild Orchid Crafts
Sentiment - Pink Petticoat
So we are all done cos like me, it is another shortie today cos I have stuff coming out of me lugs – booo, hisss!!! But before I go I'll leave you with a little sneakie peekie of what will be appearing on here tomoz …..
As Rolf would say, can you tell what it is yet?????
Enjoy the sunshine peeps and see you back here in the morrow.
Huggiest of hugs to all xxx