Morning peeps and hope you are all OK. 
Today over at Papertake Weekly it's the last challenge  of the month so it's time for a sketch …
… and it's this one here (and one of my personal  faves!!)
And as it's the last challenge of the month, we are sponsored by those lovely peeps in the good old US of A, Simon Says Stamp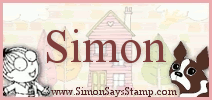 and there is of course a spending spree up for grabs for one lucky girlie :)
So this is what I did.
I rotated the sketch – and I could not resist using my new hAnglar stamp which arrived at chez Piggy the other day (I know it isn't NEW new, but it's new to me if you get my drift!!!)  I call her lil sweet pea here cos I used pea green and she is very sweet lol!!!
Anyhoos I coloured her with these Copics – E00, E21, R11, R20 (skin), E40, E50 (hair), R85, RV0000, RV000, RV00, RV10, W00, W1, YG0000, YG01, YG03, YG23 (clothes etc)
And there is a bit of the old blingy stuff scattered about as well :)
I used a little bit of bloomage from the one and only Wild Orchid Crafts - hip rosebuds, 10mm open roses, 6mm closed rosebuds and of course my faves at the mo, the gorge little sweetheart blossoms
The papers are all from Tracy at Dies To Die For and they are Memory Box 8 x 11 (fab colours)
I used Lord Timmy's Scalloped Die and a few self adhesive rhinestones from WOC
The button and bow are both from The Ribbon Girl – I used pink organza and a medium lime green polka dot button and both are so pretty.
So we are done for another day and I am psyching myself up to clear the junk out of my craft room as my hoarding has gotten out of hand - just a bit. I have decided that the only way to do it is to get everything out and then put it into 3 piles – stuff I am keeping, stuff I will sell and stuff I will chuck. Problem is that the 'stuff I am keeping'  pile will be bigger than the other 2 put together cos I just cannot be ruthless.
Any tips would be greatly appreciated peeps. How do you organise your rooms and how do you decide what to keep and what not to keep? Heeeeeeeeeeellllllllllllllllllpppp!!!!
So on that note I better go and make a start. I might just go and have me lunch first (procrastination is something I am very VERY good at lol!!)
I'll leave you with a sneakie peek of what will be here tomoz and all I will say is please don't miss it cos we have a surprise in store :)
Enjoy your day and hugs to all xxx