Morning lovely peeps and Happy Friday – woohooooo it's nearly the weekend!!!
So today it's time for a Tilda-tastic challenge over with the Just Magnolia girlies
It's the first Friday of the month so time for our Special Monthly Challenge which as always is sponsored by Heidi and her team from Simon Says Stamp with a $30 voucher, and she even pays the shipping! With over 100,000 items in stock, Simon is proud to offer the best selection of Rubber Stamps, Scrapbooking, Artist Trading Cards, Altered Art, and Paper Crafting Supplies in the world!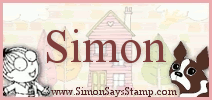 The theme for our Special Monthly Challenge is
Anything Goes
and this month we have added the option of using beads on your creation.
Well I did and I didn't use beads – more of that in a sec.
But what I did use for sure was a shed load of Copics and Pro Markers  which you can get from Dies To Die For. And no list again today sorry lovelies cos I forgot to write them all down in my panic to beat the retreating light!!!! Don't you hate this time of year for that reason?
But anyhoos, I went for traditional Chrimbly colours but with a bit of a modern feel, so lots of acid greens and 'hit you between the eyes' reds!!!!.
The paper is of course Pink Petticoat's  fabulous gingham in crimson, which I love and I think it's perfect with this colour theme.
Now this was me trying to to be clever - hahhhaaaaaa!!!
You know them wall hanging decoration things? Well I was trying to make on of them so it looked like it was hanging on the wall beside Miss Tilda who really ought not to be sitting on top of the fire like that lol!!!
Anyway it came out OK apart form in the pic cos the Diamond Stickles looks a bit gold-ish and mucky. But IRL it's quite nice. And of course those gorge blooms are from the one and only  Wild Orchid Crafts
So this is where I used the beads.
Except they are really self adhesive pearls so they are and they aren't beads. But it's an optional thing so it was OK. This was one of the stamps from an old Christmas collection and I never used it before or if I did. I cleaned it exceptionally well!!!  I love the funky holly look and it goes nicely with the Magnolia lace.
Shame about the very un-neat and going over the edges colouring Miss Piggy.
Sort yer trotters out girl!!!!!!
So that's that for today.
It's Friday so her ladyship will be in residence later on so that means loads to do before I go and collect her from school. I haven't seen her since Sunday and we have missed that kid so much. We might go to see some fireworks tonight – it all depends on the weather really and if she wants to go. But enjoy your November 5th and stay safe and warm.
See you soon if not sooner and huggiest of hugs to all xxx