Good morning peeps and hope you are all OK. The weather is again awful as I am typing this looking out of the window at a grey and drizzly Chester – grrrrrr!!!
But we have something to brighten the day and add a little sparkle over with the Papertake Weekly girls cos our challenge this week is
Sparkly & Bright
and quite simply, you just have to add something sparkly and glittery(well of course, I don't need to be asked twice to do the glitter thing)
We are sponsored by the one and only Simon Says Stamp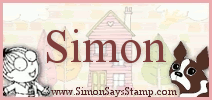 and there is a fab prize up for grabs as well :)
So this is what I did.
Do you like that sweet little angel image? I LOVE her and she is one of the new digi Manga images which are now available at Secret Crafter and you can find her right here.
She was a joy to colour and I used Copics in  these colours -
Skin: E00, E21, R11. R20
Hair: E42, E50
Clothes: B0000, B12, W1
and these are available from the lovely Tracy over at Dies To Die For. And there are some awesome last minute Halloween offers peeps so if you haven't yet done your cards, or if you just want to nab your self a bargain,  nip over and check it all out here.
Do you like her glittery eye shadow peeps :)
The papers I used are Nitwits and the sentiment ribbon is of course Pink Petticoat. And yes, I dragged it back out of retirement peeps – the MS Doily punch is back - woohoooooo!!!!
This little arrangement was like Pringles cos once I started I just couldn't stop lol. Everything  I  used here is available from Wild Orchid Crafts. My beloved  Richard pointed out that I'd used holly leaves with the wrong flowers, Well I KNOW that dear –I think it's called artistic licence or something along those lines.
But I think they look nice!!!!
I added a little bling – like you do – well the challenge said sparkly and bright and these are very sparkly!!!
Ooops – out of focus pic to finish!!!!!
So that's the old card done and I'm off to make a start on the 20 odd things on my to do list (which doesn't seem to be getting any shorter sadly).
Have a fab day and I'll see you soon if not sooner peeps and hugs to all xxx